top dog... making catering easy and affordable!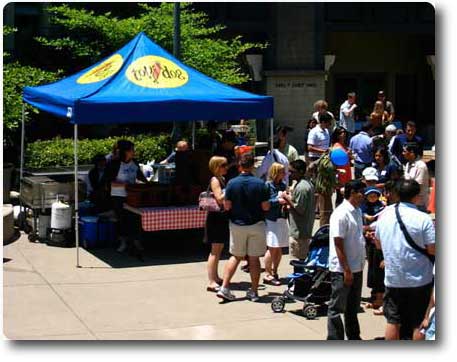 Based out of Berkeley, top dog caters around the Bay Area serving up that nostaglic reminder of when food not only tasted great, but was fun. From small, intimate backyard parties, to large functions with thousands of attendees, we can do it all. Our flexibility allows us to tailor the event to your individual requirements.
How do you do it?
If you are not familiar with our selection, we can help you choose a menu of up to 4 delicious types of hot dogs with tasty sides and ice cold drinks to suit. To allow for those that are super hungry and just love our hot dogs (believe me, there is MORE than one in every crowd..!) we always bring extra.
An hour before service begins, our crew arrives to set up mobile grills, prep and condiment tables. We arrange any sides and a full condiment bar consisting of ketchup, 3 types of mustards, diced onions, relish, and heated sauerkraut. Finally, we cook your hot dogs to perfection and serve them on freshly toasted buns. No more stress, no more BBQ nightmares, you get to relax and enjoy the event!
What's the cost?
Delivery

Hot dogs

(any flavor)

$4.25-$4.75
Chips and drinks
$1.75
Potato salad or Cole Slaw

$2.50-$2.75

with a delivery charge depending on the distance to your address
Consumption Based Menu

Setup and first 60 hot dogs
$650.00
each additonal dog beyond initial 60
$5.00
Beverages

(per serving)

Ice cold canned soda, bottled water
$1.25
Sides

(per serving, min 20 servings)***

Veggie Platter

-Serves 80, mix of fresh, raw veggies + dip

$100.00
San Francisco Potato Salad

- a 60 year traditional favorite

$2.25
Cole Slaw

- slightly sweet

$2.25
Caesar Salad

- made fresh onsite, always popular

$2.25
Fruit Salad

- Fresh Cantaloupe, Honey Dew, Red Grapes and Pineapple

$2.25
Chips

- 4 varieties provided

$1.25
Vegetarian Chili

- vegetarian and delicious

$2.00
Cheese
$0.75
Cookies
$2.50
Brownies
call for price
Download our Consumption based menu Worksheet.
* A travel surcharge may apply for events more than 10 miles from Berkeley.
**Prices for consumption based pricing do not include tax.
*** The minimum charge for sides is 75% of the servings ordered.
Most catering companies can't match our ease of ordering and attention to quality, let alone the cost effectiveness and dual flexibility of fixed price per person or consumption based pricing.
To make budgeting easier, we can arrange a fixed price, per person menu. This method would suit you if you want to know in advance exactly how much the event will cost. Call us with your menu choices, or if you just want advice, and we'll give you a fixed price quote. You can choose from one of 3 packaged options, or create your own custom menu.
Our consumption based menu is designed to suit less structured events. Beyond the base price, which includes the first 60 hot dogs , the only extra costs are the additional hot dogs you eat, and drinks or sides you add to the menu. Hence, the final price is not known until after the event.
The result is very low waste, fair pricing for all and a great way to provide cost effective, quality food without big headaches and any hassle.
How do I book?
The sooner the better! We commonly take reservations for dates, giving you first right of refusal if anyone else tries to book on the same day. So don't wait until the last minute only to find that we are booked out, call today!
Contact us via phone on (510) 845-2580 or email, catering@topdoghotdogs.com. A knowledgeable top dogger will assist you in selecting from our menu.
Can I get a discount?
If you book early enough, of course! Booking 3 or more weeks in advance of your event enables us to be more organized, so we can pass along savings to you! 5% off a consumption based order, or $1 off per person on fixed price.
For an even larger discount, pay in gold or silver. Yes, I'm serious. Pay with US denomination coins made of silver or gold and we'll give you a deal you can tell all your friends about. Please inform us if you are interested in this method of payment prior to the event.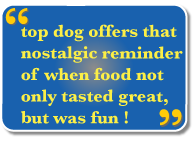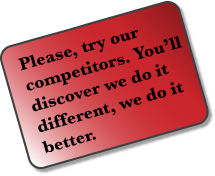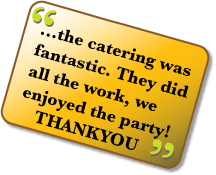 top dog grew out of a boy's love of sausage, a staple in his German immigrants' New York home over the WWII years. Steaks? Tubesteaks! His paper route to a well-mixed neighborhood assured that Italian, Polish, even Hungarian sausages were soon no strangers to that developing appetite and palate. Nor had he far to go to a cart or stand offering kosher style "Franks", usually steeped but better off the griddle.
Goodness! With kraut n' mustard, please. Raw onions, ketchup (not "catsup") and mayo were unheard of on hot dogs. Burgers maybe ... oh, but that was far away and another day ...more